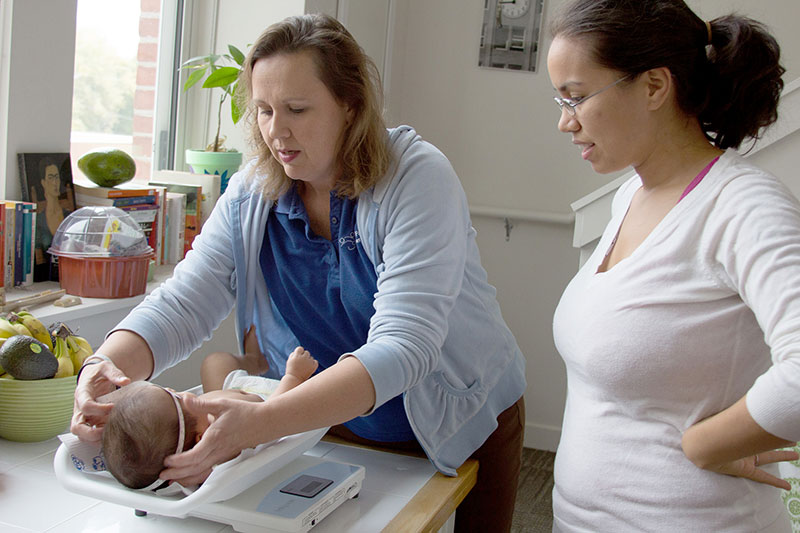 Providing a Free Personal Nurse for First-Time Parents
Nurse-Family Partnership is a free program for people who are pregnant with their first baby. It pairs moms with a registered nurse who can provide all the support, advice, and information needed to have a healthy pregnancy, a healthy baby, and be a great parent!
How to Qualify 
To qualify for Nurse-Family Partnership, you must:
Be pregnant with your first child (no previous live births)
Be less than 28 weeks pregnant
Meet income eligibility*
Live in St. Joseph, Elkhart, La Porte, or Lake counties. For a full list of other counties in Indiana where Nurse-Family Partnership is available, click here 
How to Sign Up or Make a Referral
Parents: Click here for self-referrals
If you're pregnant with your first baby and you're interested in joining Nurse-Family Partnership, please fill out our online self-referral form by clicking the link above.
Agencies: Click here to refer a client
If you're a healthcare provider, clinic, or other community partner who would like to refer someone to Nurse-Family Partnership, please click the link above to make a referral.
Other Contact Information
You may also get in touch by phone, text or email and a Nurse-Family Partnership staff member will reach out to you soon.
For residents of St. Joseph, Elkhart, or La Porte Counties: Call 574-472-7378, text 844-637-6667, or email nfp@goodwill-ni.org.
For residents of Lake County: Call 219-444-2000, text 219-472-2424, or email nfplake@goodwill-ni.org.
Program Information
Did you know that Indiana has the seventh worst infant mortality rate in the United States? Every year, about 600 Indiana babies die before their first birthday. The infant mortality rate is more than twice as high for African American babies compared to Caucasians, and higher for those living in poverty regardless of race. To address this disparity, Goodwill of Michiana has implemented Nurse-Family Partnership to create better health outcomes for first-time moms and their babies.
Nurse-Family Partnership pairs first-time parents with a registered nurse to support them throughout their pregnancy until their baby is two years old. Nurses provide moms with the advice and information they need to have a healthy baby and be a great parent. Families also receive case management support to help them with housing, education, employment, childcare, and more until their baby reaches five years old.
Nurse-Family Partnership is an international, evidence-based program, widely researched and recognized for improving health and social outcomes.
* Income is based on 200% of the Federal Poverty Level. Anyone eligible for programs such as Medicaid, HIP, Hoosier Healthwise, WIC, SNAP, or TANF would meet income guidelines for NFP, but they do not have to participate in any of these programs to enroll in NFP. There are no age, medical, language, or immigration restrictions. If you are unsure whether your income would qualify you to participate, please fill out a referral form, and we can let you know if you qualify. Feel free to contact us with any questions.