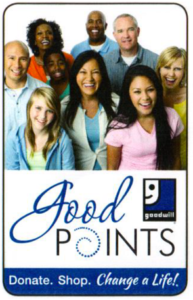 The mission of Goodwill couldn't be completed without the help of you, our loyal shoppers and donors.  You are the reason we've carried out our mission for over 80 years.
Our FREE Good Points card, is one way we can thank you for helping us change lives in our community. For more information on how you help Goodwill Industries work within our community, please visit our Work Matters page.
Already Registered? Log in to check account balance here!
*Items that do not qualify include Goodwill Gift Cards, Goodwill Boutique purchases, Monetary Donations, any Goodwill Online retail presence, and may include other items deemed unacceptable by Goodwill store management. Visit Rules, Terms, and Conditions for additional information. Goodwill Industries of Michiana, Inc. reserves the right to change the terms and conditions of the Good Point Reward Card Program without notice and can limit, refuse, and/or revoke card holder privileges without notice.